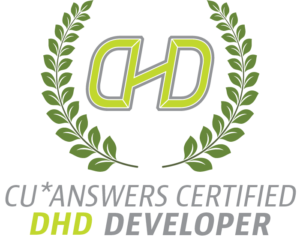 The CU*Answers Certified DHD Developers Program is an optional free program for software developers to reach an audience of over 200 credit unions and businesses. If you and your company wish to take advantages of the benefits of this program, please fill out the form below. If your certification is accepted, CU*Answers will publish your information to our website directory and communicate to all our clients through a direct message and a press release. Contact the DHD Team for more information.
CU*Answers Certified DHD Developers Program Requirements
Sponsored by a credit union
Be an organized business entity
Provide proof of commercial insurance (Commercial General Liability with at least $100,000 coverage)
Need to demonstrate upon request aptitude or experience in the field
While the program is free, access fees may be assigned depending on your project needs
Not sure you qualify? Contact us using the form below to find out how we can help.
---
Submit this form for more information on the
CU*Answers Certified DHD Developers Program